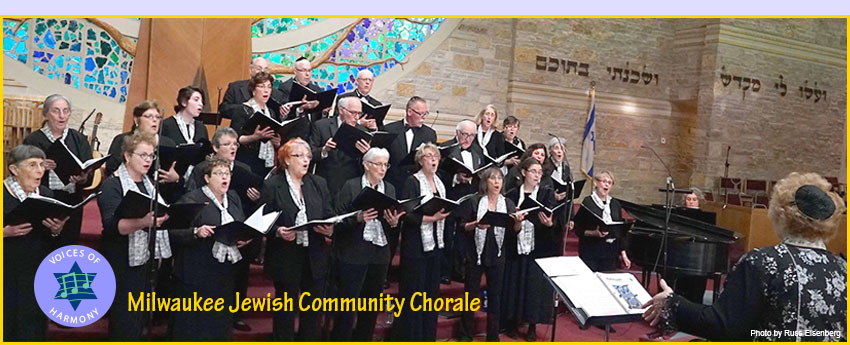 Milwaukee Jewish Community Chorale:
"Voices of Harmony" from Milwaukee's Jewish Community
Celebrating its 25th Anniversary!
An independent performing arts group, the Chorale brings together singers from Milwaukee's Jewish community to present a variety of traditional and contemporary Jewish choral music. The Chorale seeks to enrich the musical quality of life in Wisconsin and beyond. In addition to performing for groups in the community, the Chorale holds an annual spring concert which draws an audience from across the metro-Milwaukee area and other surrounding Jewish communities.

Have You Ever Sung With Us?
Please join us again this season for our 25th Anniversary concert on May 22, 2019. We rehearse Mondays, 7:15pm at Brass Bell Music Store, 210 W. Silver Spring Dr. Milwaukee, WI 53217. If you have sung with us before, let us know when you are coming! If not, contact Enid Bootzin Berkovits (414-416-0580) for an audition.
Upcoming Concerts
Chai Point
Chanukah Concert
Monday, Dec. 10, 2018
at 7:00pm
Ovation Chai Point
1400 N. Prospect Ave., Milwaukee, WI 53202
Testimonial
The Milwaukee Jewish Community Chorale gives a wonderful program that enhances the quality of life for our residents. The Chorale makes such beautiful music, is very spiritual in our Jewish Community, and we look forward to their performances on our campus.

  ~Tricia Cohn, Executive Director, Chai Point Senior Living
On Public Television
Catholic-Jewish
"Nostra Aetate"